In 2003, Nassau port authorities gave the 200-ft freighter, Ray of Hope to Stuart Cove's for sinking as an artificial reef. The ship was sunk in 60 feet of water with the Tongue-of-the-Ocean wall right behind. Ray of Hope was sunk next to an older wreck called Bahama Mama. The hull of the Bahama Mama had begun to deteriorate and only the bow and the stern section still stood upright. But now, these two shipwrecks, side by side, create a spectacular and photogenic site… especially with some sharks wandering past…. and everyone loves sharks!
   Well maybe not everyone…. but despite the apprehension surrounded a shark encounter, tourists spend big bucks every year to have an extreme adventure with sharks. Twice a day, everyday, the boats from Stuart Cove's go out, full of tourists ready to have a close encounter with Caribbean reef sharks. And what better location than the Ray of Hope wreck.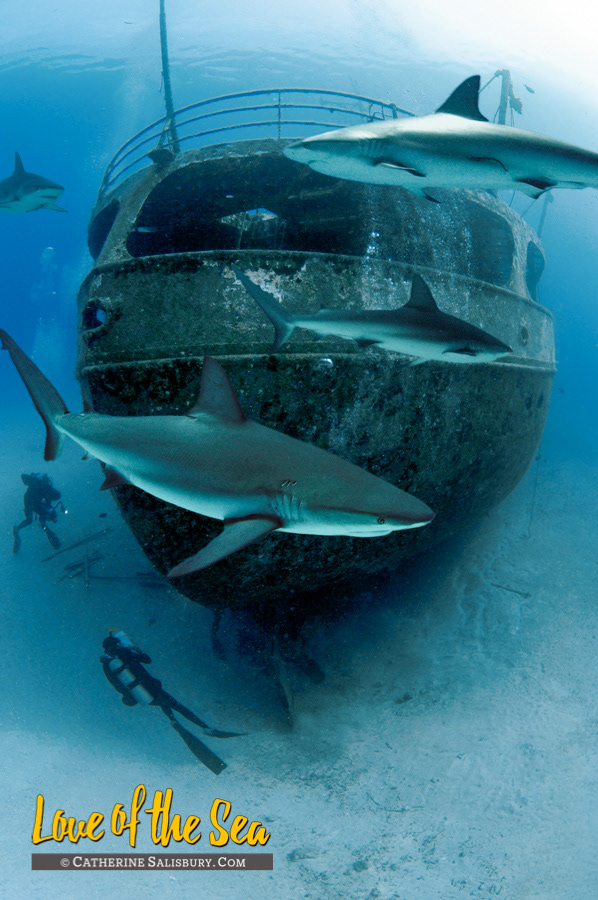 Leon Joubert and Claudia Pellarini have been feeding the sharks for years now. Both Leon and Claudia can show you their scars. It's a hazard of the profession and both have had seriously close encounters with sharks and risked losing their limbs and maybe even their lives.
   Leon prepared a shark feeding show and we went out to dive on The Ray of Hope, where sharks are regularly fed. Shark feeding is a practice disputed by most ecologists. By feeding sharks, they are disturbed from their normal eating habits and they lose their natural distrust of humans. As they no longer fear divers, they can become aggressive and attack.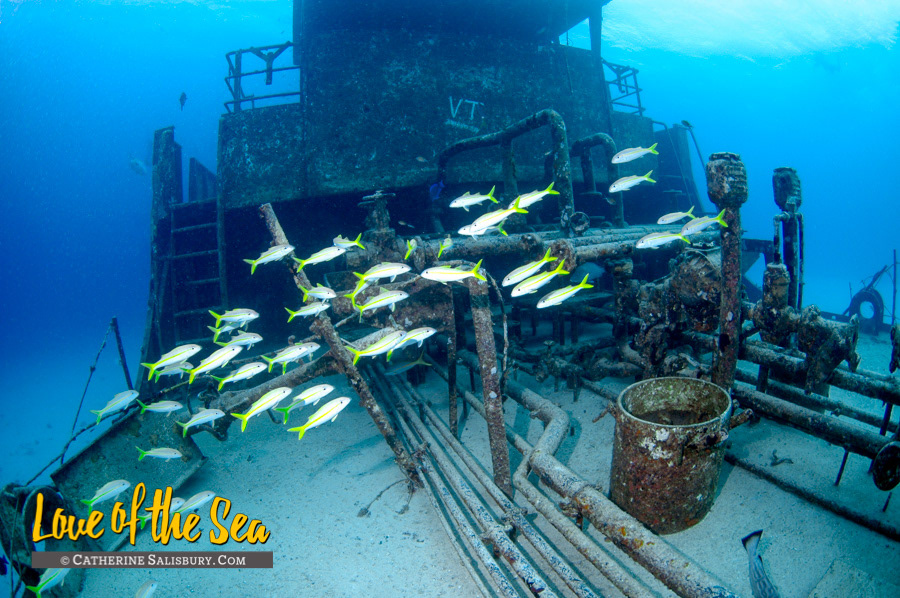 The diver in charge of distributing the bait was dressed in a coat of mail armour over his dive suit. One would think a Roman gladiator. In his box, he had pieces of frozen fish that he distributed at the end of a stick.
   The boat headed out to anchor at the edge of the drop-off, where the Caribbean reef sharks live. Sharks hunt in the current in the deep blue and they only come up on the plateau for good reason. The engine stopped and within seconds, they were there: twenty, thirty sharks turning in circles under the hull and cutting the surface with their fins. It's a really impressive sight and we hesitated a few seconds before jumping into the water. But the sharks moved away, watching attentively, and we swam down to the wreck.
   The gladiator-cum-diver with his bait box joined us and immediately, the atmosphere changed. As soon as the box was opened and the first bait offered, the sharks rushed in, twisting their bodies and whipping their tails around in a frenzied ball. The shark ballet exploded. Then a single shark rushed out of the ball with a grouper head in its mouth, chased by his slower friends. This madness repeated itself until the last piece of bait was gone. The sharks then calmed down and swam away quietly. They descended along the vertiginous drop-off, into a world far too deep for us.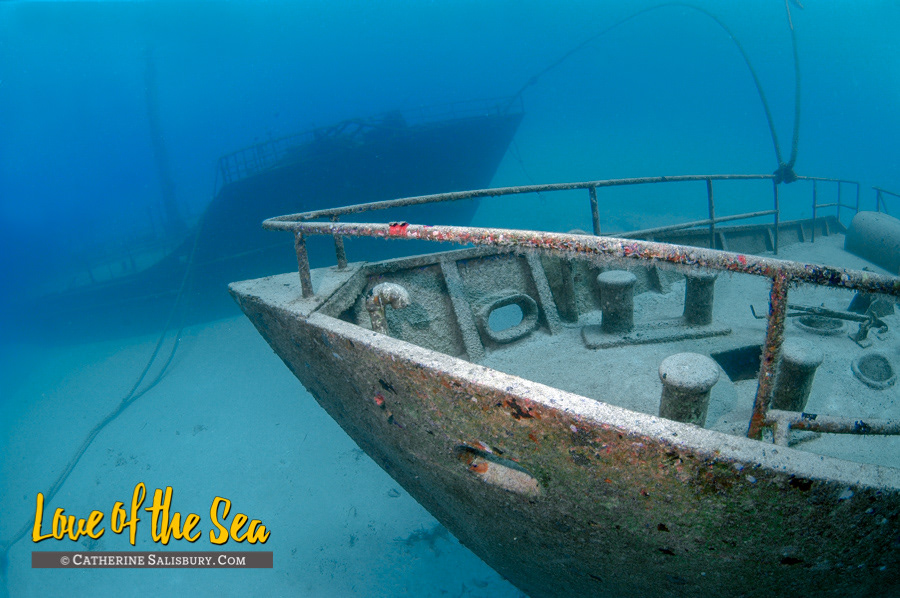 Dominique swam away from the wreck, looking for the best angle for his painting. Sitting quietly on the sand with his drawing board, he started to sketch. From out in the blue, two sharks came in for a closer look. Dominique held his breath and let them approach. The sharks showed no aggressiveness and it was simple curiosity between sharks and human.
   Sharks are very misunderstood creatures.  For years, we have been fed stories depicting sharks in a frightening light - the murderous shark, the merciless killer, the wild beast. The newspapers publish articles every time a swimmer or surfer is bitten by a confused shark, while every year we kill millions of sharks.
   From this shark feeding dive, we saw how easy it is to create dramatic shark footage. A bit of bait, scary music and some quick editing and one could make these sharks appear as blood thirsty monsters.
   In my opinion, by organizing this shark feeding, Stuart is protecting these sharks. Sharks are part of the scuba-biz and as Stuart's associates, these sharks have acquired a recognized value in a market economy. Thousands of tourists come to Stuart Cove's to see sharks and so they have more value alive than dead. It is not really ideal but I prefer to see sharks fed and alive than dead in a soup.
   The Ray of Hope is now the 16th wreck sunk on the southwestern side of New Providence.