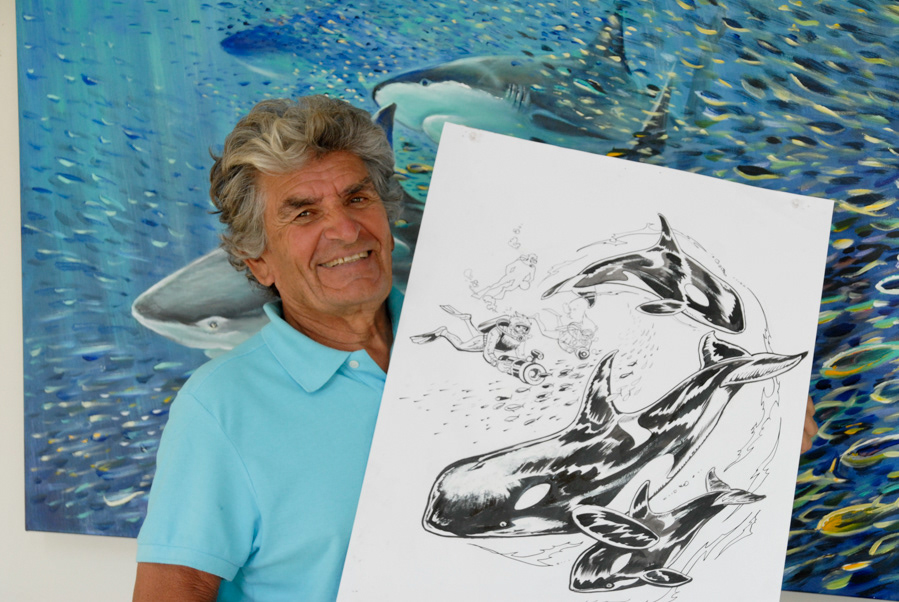 MORE OF DOMINIQUE'S WORK CAN BE FOUND AT
A young student at the Ecole de Beaux-Arts de Paris, I adored the atmosphere of May 1968. I was 22 years old and the whole experience turned my head around. Since that time, where all seemed possible, I have run after my dreams, dreams of liberty, love and art. 
One man helped me to actualize my dreams - Jacques Yves Cousteau, a real magician, who brought even the craziest of dreams to life. Like for many terrestrial beings, he opened the doors to the sea and with him I wrote and drew a series of comic books - known in French as Bande-Dessinée which told of the adventures of the Cousteau team. A wonderful adventure that lasted 20 years, I was on board the Calypso with the likes of Albert Falco. I learned how to respect the sea, to dive and visit the sea silently and carefully, in admiration of sea creatures.
After the death of commandant Cousteau, I continued to live my life at large, diving and sailing the seas with my paint brushes, watercolors and canvases. Drawing under the sea is always wonderful.  My fellow land creatures, I invite you to discover the treasures of Neptune on my canvases and that you put a little drop of blue in your lives.