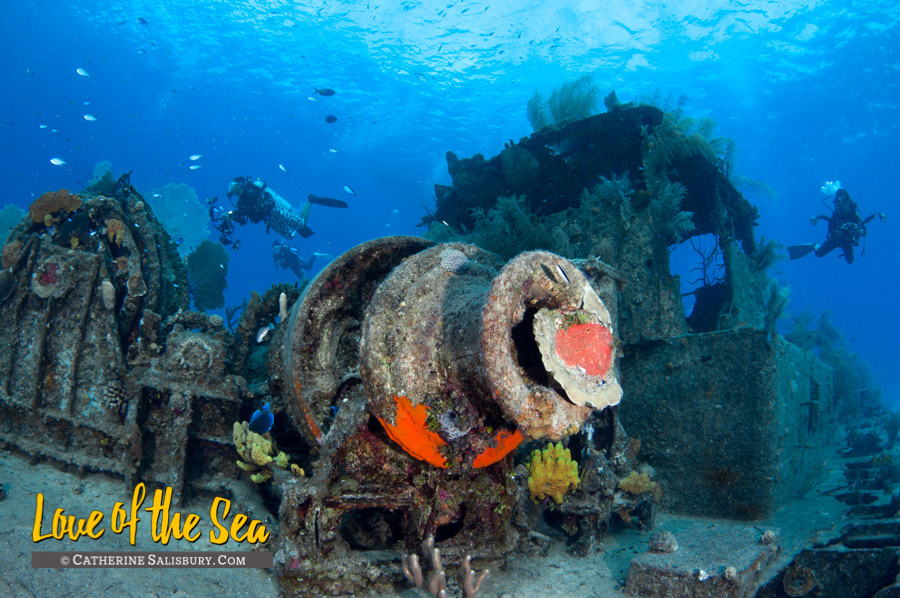 The Doc Poulson is a tailor-made wreck, sunk for the tourist market in 1982 in 60 feet of water. Named for a the doctor who set up the first hyperbaric chamber on Grand Cayman, the Doc Poulson was a Japanese cable laying ship before being turned into an artificial reef.
   This 80 foot long wreck is a real underwater photography studio, sitting on a bed of white sand not far from a shallow reef with beautiful blue gin-clear water. Blue and stoplight parrotfish cross the sand to visit the wreck and a school of jacks pass by in the blue. The wreck, and particularly the cable winches on deck are encrusted with colourful sponges, sea fans and coral.
   During the filming of the DreamWrecks show, our cameramen, Mike and Warren were thrilled because they could work in peace and film from all possible angles. Dominique decided to scooter / free dive the wreck and Cathy took pictures of Dominique and his underwater antics.
   We returned to this wreck in 2018 and to our great joy, the wreck has become an even more prolific substrate for coral, sponges and sea fans, despite the disastrous state that we found many of the west end reefs of Grand Cayman.