Do you know dear cinephile divers, where the first version of 20,000 Leagues Under the Sea was filmed in 1912? And the first television series of Flipper? What about the underwater scenes of two James Bond films - Thunderball and Never Say Never Again with the real, the only 007, Sean Connery himself, the spy who saves the Western world while seducing beautiful women? I'll give you the answer: these films were shot in Nassau.
   Hollywood has produced a long series of films inspired by the underwater world - a disturbing world, populated by giant octopuses, sperm whales, sea snakes and other monstrous creatures out of the delirious imagination of scriptwriters. Most of these films were shot in this corner of the Bahamas at Stuart Coves.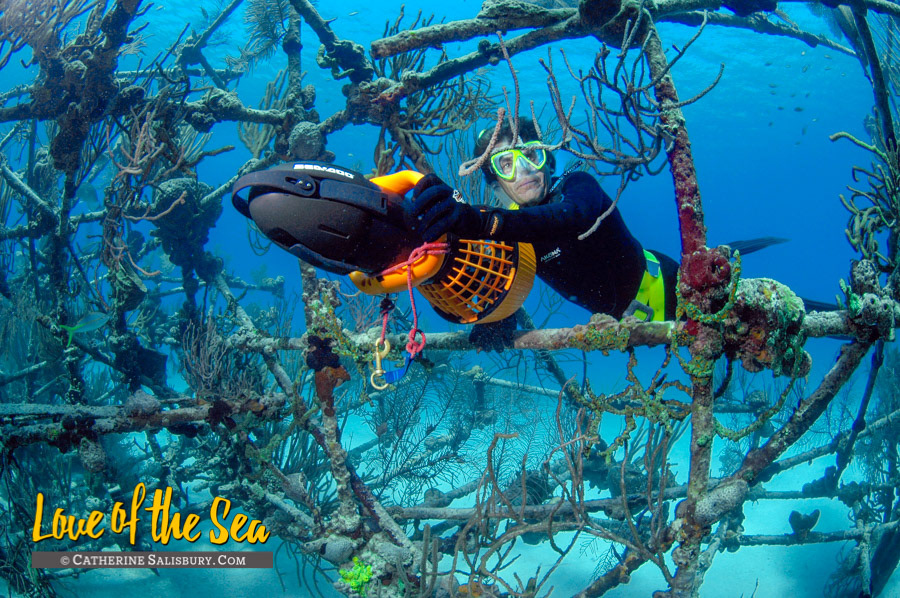 On the walls, photos bear witness to the film shoots, actors and stars of show biz who have come to the Stuart Coves' dive shop.
   Stuart discovered the mysterious formula, sought by the alchemists of the Middle Ages, how to make gold from scrap! The formula is simple: mix a rusted freighter with warm, clear sea water, add a few sharks and a shallow coral reef. By sinking wrecks, Stuart was able to create artificial reefs. Stuart convinced the local authorities to give him some old rusted cargo ships that blocked the harbour, in order to transform them into film sets and dive sites.
   A structure of tubes covered stands on a sandy bottom. This is the remains of the set which was used to shoot the underwater sequences of the James Bond film Thunderball and the oldest of the Hollywood wrecks. In Thunderball, the ugly Draco, a one-eyed Italian with a blindfold, staged a hell of a plan. With his Spectre buddies, he stole a Vulcan bomber with the nuclear bombs on board. The bomber lands at sea. The evil divers kill the pilot and take the bombs that they will use to blow up the United States. Fortunately James is there to save the situation.
   The movie producers created a Vulcan bomber from steel pipe and fiberglass. Today the fiberglass is gone but we can still recognize the shape of the wings, the cabin, the landing gear. The sea has created a superb living lace of gorgonians and sponges which are fixed on the tubes, transforming the sinister bomber into a cathedral. Through the branches, light plays like behind stained glass.
   Other famous Hollywood wrecks at Stuart Coves is the 90-foot  freighter Tears of Allah used in the Never Say Never Again James Bond movie, a  small Cessna 310 wreck which was purposely crashed at sea for the Jaws 3 movie and the treasure wreck from Into The Blue.