El Aguila is Anthony's Key Resort's house wreck and a short ride away from Sandy Bay. It lies on a bed of sand at 110 feet in depth, not far from the reef. From the reef, the view of the wreck on the sand patch is quite spectacular. The bow is standing upright on its keel and the remains of the mast stand on the deck. Dominique captured this vision on his sketch pad.
   The Resort purchased this 230 foot cargo vessel to make a new wreck site for their divers. It took the team 5 weeks between purchasing, cleaning, towing, and finally sinking the ship in its current location. Its final voyage, was a run from Puerto Cortes to Haiti, carrying a cargo of concrete which can be found in the wreckage.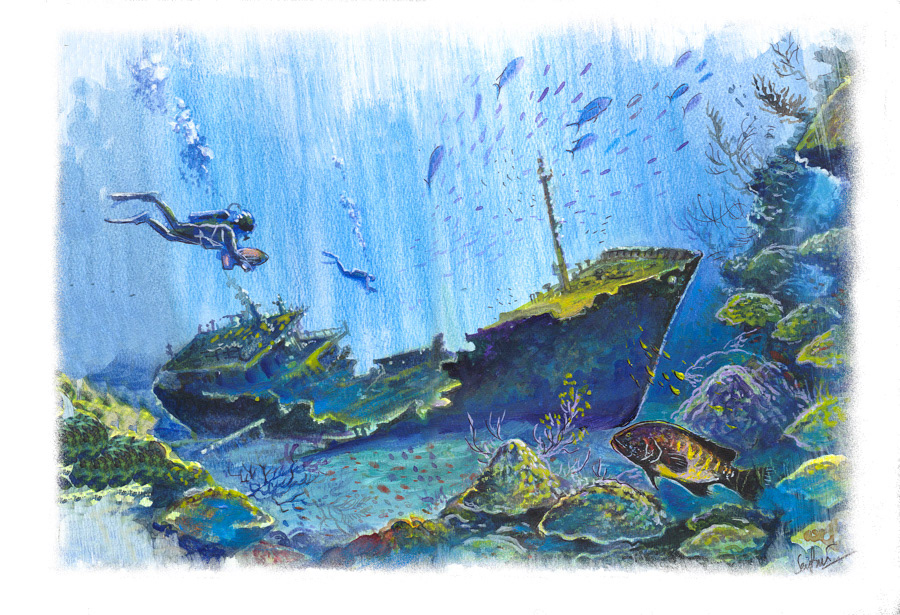 In 1998, one year after El Aguila's sinking, Hurricane Mitch left this wreck in a bit of a mess. Even with the deck 80 feet below the surface it was not safe enough to withstand the full blow of the hurricane. All salvageable metal had been removed from the ship before it sunk, leaving the hull structurally unable to resist the stress created by relentless current and surge. El Aguila split into two with the cargo holds broken lengthwise and separated from the wheelhouse and the bow.
   The upside to the destruction of the midsection is that it has provided more habitat for marine species. Now there are plenty of nooks and crannies to explore and on our trips to El Aquila, we swam through the scattered metal debris, where grouper and angelfish have taken refuge.
   For the curious, the wheelhouse at the stern of the wreck had numerous passage ways to explore, some with clouds of small bait fish. We had fun playing in this shipwreck-cum-underwater jungle-gym.