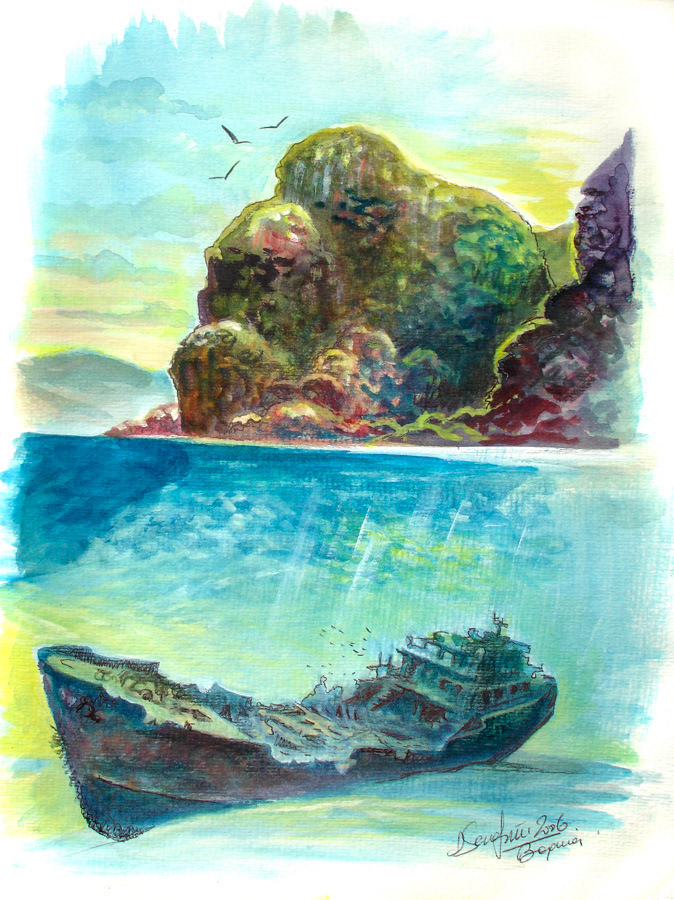 At the southern tip of Bequia in the Grenadines is an enormous natural arch through which the moon can be seen. The place is rightfully called Moonhole. In the 60s, an American couple came to Bequia, acquired the tip of the island and built their home under Moonhole. They created an architectural wonder built into the landscape, using natural stone and whale bones, which they found on the beach. Their quirky home blurred the line between indoor and outdoor space.  Later they would build 17 mores homes and create a community of like minded people.
   Sailing from Martinique to Grenada we stopped for the night in Bequia. At a local bar, we were told about a wreck just off Moonhole and the next morning we set off to find it. Our trip out to Moonhole was spectacular. The dramatic shoreline in itself was worth the trip. A mooring buoy on Moonhole reef was our entry point into the water. Rick's H is down on a sand bed past the reef in 130 feet of water. A 240-foot container ship, it's presence in the underwater landscape is impressive.
    How did the wreck end up there? This corner of Bequia is a natural shipwreck maker. Cutting the corner short on the turn into Admiralty Bay could easily land you on the reef.